Website Design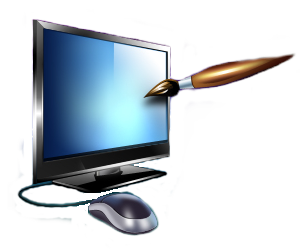 Website Design & Development (888) 552-0223- Unique & Custom Website Design. The Only Way to Go
So What Exactly Is A Website? I Mean Really…
A Website, or "web site"; whichever way you choose to write it, is a collection of pages of data that is displayed together as a unit or a complete website. This "site" is determined by your url address. In other words this is your business on its own street or address on the internet. This web site is displayed in single units, or web pages. Each web page that you have has its own title, its own message, and finally its very own purpose in your website. Examples of a web page are your Home page, About us page, Contact us page etc.
There are many different types of websites which will be covered thoroughly in this section. Determining which type of website you will ultimately need is a whole other issue, but a very critical one. Knowing what type of website you need can help you not only save on your project, but help you establish your brand the right way, while taking the correct approach. You may need a Personal website, Business Website, Corporate Website, Static website or something a little more Dynamic… and the list goes on.
Many of our website design clients here in South Florida have many different industries that they work in. Our approach is not the same for every industry or market. Some companies online are not as competitive, and others do not actually require much. A restaurant owner may want to display their Menu on their website, their location, and a little about them. Some other business professionals though, may want a little more. For example If you are a lawyer and you need a legal website designed for your firm, you may need a contact form, and other mailing features to keep in touch with clients. All situations are different, so having a firm understanding of the various website types and what you need can help make your website building and developmental process a much smoother one.
Website Design Today and The Future of Web Design
An Intricate Look at Website Design in A rapidly growing industry and mobile environment
Is Website Design Really Such A Big Deal?
Website Design is an intricate yet very delicate aspect of a website and its web pages. Web design has evolved very much since its growth in the early to mid nineties. We have gone from simple coding and 2D squared images, to complex and beautiful themes and style sheets.
Having a website was once a privilege, but now it is almost mainstream. What is meant by this is that while many people browse the web, there is only a small few that actually make web pages and design websites. Although the web has been getting fluctuated with tons of trash, if you can establish yourself in the marketplace with a beautifully designed and unique website, you can benefit very much so from it.
There are many tools and programs that web designers use to create a webpage style or theme. Here at Unique Net Designs, we focus on your logo, and choose the colors and themes from there. Once we have that, we then look at the product that you are selling, to determine what colors in the design will help attract the customer to your bottom line, which is either a phone call, or filling out a quick contact form.
All in all, Design is a crucial aspect to your website. You don't want to have too much in your face colors and content in your design. The cleaner the better. Right now in 2013, design has changed to provide mobile responsive design for websites. There have also been many windows 8 themed responsive designs as well. We also saw the transparency trend in the industry and many more to come.
Tags:
custom website design
,
web design florida
,
web design today
,
website design
,
website design florida