Free Web Design?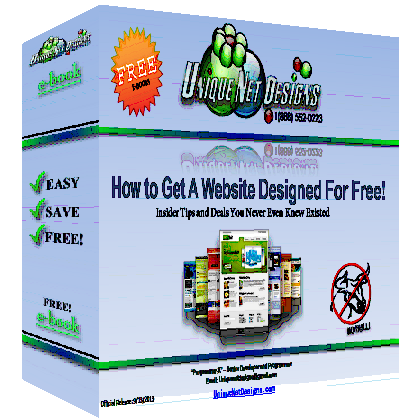 FREE WEB DESIGN eBOOK!
How to get a website for little or no money at all!
Don't spend another dollar on web design until you have read this free eBook. "How to Get a Website Designed for Free…No Bull!" Written, and released by "Programmer-X" this eBook will help you see the web in a whole different light.
FREE WEB DESIGN
"How To Get Your Website Designed For Free…No Bull!" e-book.
Download is quick and easy! Click the follow button to follow us on twitter, and that will activate that download link to your free ebook!
I didn't believe it when I saw the download link for this free eBook, but now I know for sure I can launch my website without breaking the bank.
Sarah J – San Antonio, Tx
Usually I'm pretty skeptical about claims for free stuff, but when I read this eBook it made a whole lot of sense.
Steve G – New York, Ny
I think its about time someone broke down the web in a easy to understand way. I design myself and Im actually not against it. I get more corporate business. But this eBook is geared towards the small and personal website seekers.
Sean D – The Valley
Why Do People Who Need A Website Usually End Up Overspending?
Programmer-X: "The main reason the consumer will easily fork out thousands on a website design is because they don't know any better. They pay for features, code, and programming that they actually don't even need!" This FREE eBook sheds light into the web design process, and explains exactly what you need.
Website Design doesn't have to becomplicated. Especially when you can just get it for Free! "Programmer-X" the writer of this free eBook has shaken up the internet community with this free publication, and its available to you free to access and download. All you have to do to get free access is Follow Us on Twitter!
Unique Net Designs can offer you a custom designed website that suits all your business goals. Not only will we design a sleek and beautiful website inspired by your very own imagination, we will give you 100% effective and state of the art features using the latest up to date technologies and CMS systems such as WordPress, Joomla, Drupal, and much more.
The Internet is on the go. More and more people have access to the internet from many different devices. Is your website Mobile Friendly? More people everyday are accessing the internet from their smartphone and tablet devices. If your website isn't mobile responsive they will have a very hard time navigating, which in turn means lost sales. Increase business to your site by catering to the growing mobile trend.
If its Free, then how do these companies make any money?
Just like the eBook explains, there are many different types of website design and programming. Its your job as a consumer to understand what your needs really are and that begins with understanding the basics of web design.
A small business in South Florida for example doesn't have a product that he can really offer someone in New York; unless that client wants to fly all the way down to your Hair Studio for a hair cut, or to your restaurant just for a slice of pizza. It just doesn't really make any practical sense.
This is the confusion that most individuals have when it comes down to it. So instead of shooting for the stars and beyond, lets just get you set up with a basic free website first, and this eBook shows you how to do that.
We make the entire process simple for you. We help you brand and establish yourself on the internet from the very first step. Our all in one marketplace of services and professionals allows us to get you started with:
Logo Creation
Wireframing
Graphic Design
Website Design
Hosting
Programming
Application Development
Social Media
Search Engine Optimization
Landing Pages
Pay Per Click Campaigns
SEO Copy Services
Tags:
Free Web Design
,
Free Website Design